Reviews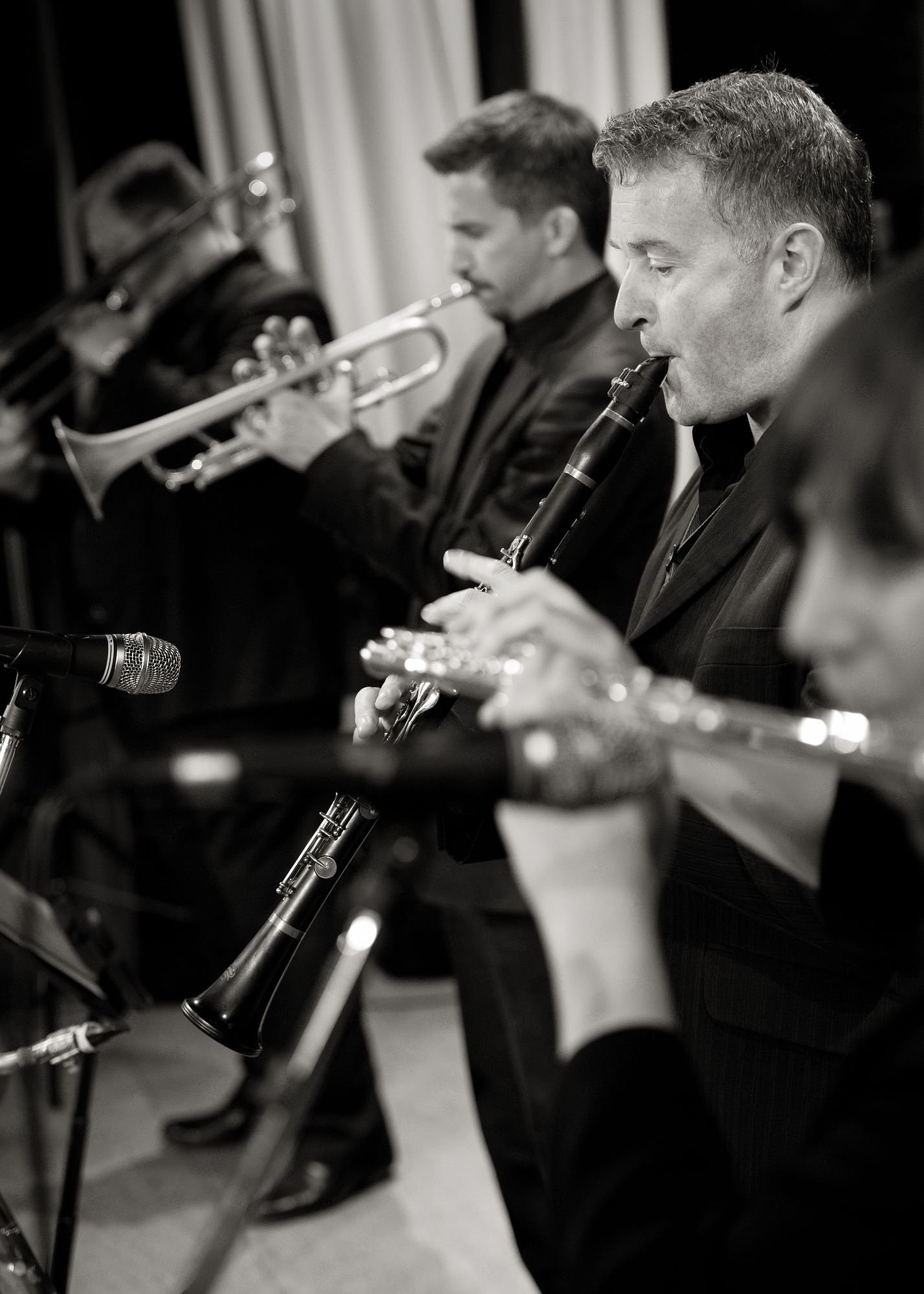 The Magnificent 7 Jazz Band - A Jazz Odyssey
A tribute to the music of Acker Bilk and Kenny Ball
Total playing time: 75m 57s
Irthling Records: IRMAG7002
Also Sprach Zarathustra/Jeepers Creepers; Beale Street Blues; Stranger On The Shore; Caravan/Oye Como Va; Georgia; Night Train; March Of The Siamese Children; A Nightingale Sang In Berkeley Square; Tanga; My Girl; Rondo; The Eel; Bourbon Street Parade; But Beautiful; Swing That Music
Amy Roberts (flute, clarinet, alto sax), Richard Exall (clarinet, tenor and alto saxes, vocals, arranger), Ben Cummings (trumpet, vocals), Ian Bateman (trombone), Craig Milverton (piano), Bill Coleman (bass), Nick Millward (drums, vocals)
There may be a little hubris in the band name but when you consider that each member of the group has performed across the world as musicians in the bands of Chris Barber, Acker Bilk and Kenny Ball then you realise that this is a justified label.

For their second outing on CD since forming in 2013 Richard has assembled a set of tunes that acknowledge the band's former employers and showcases newer material in an attempt to broaden the palette of their audience.

After an introduction by Richard Strauss, the album settles down into a great selection of jazz that showcases the melodic and solo chops of the band. Ian Bateman evokes a true Ellingtonian trombone sound in his rendition of Caravan with a stunning solo from him and pianist Craig Milverton. This tune, amongst others features an excellent bit of arranging from leader Richard Exall. The sudden pairing of this tune with Oyo Como Va jars a little but any fears are put to rest by Amy Robert's magnificent flute playing. Ben Cummings is not only a great trumpet talent but sings with a soul and control that many first study vocalists would be envious of. Georgia and My Girl are swinging and entertaining in equal measure.

The rhythm section of Milverton, Coleman and Millward is sublime in the accompaniment nowhere more so than Tanga. A Dizzy Gillespie composition, it features a bright tempo and beautiful chord changes that the horn players negotiate with skill and delicacy.

For me the standout track though is But Beautiful. Bateman again shows his chameleon-like qualities with a J. J. Johnson inspired sound for the melody and his solo. Then again, as a trombonist myself I am incredibly biased.

That there are 7 in this jazz band and that they are magnificent is just fact. That you should check out their recorded and live performances is merely compulsory in my opinion. The Magnificent 7 is entertaining, skilled, slick and swinging.

Reviewed by Andy Derrick
Just Jazz Magazine Review
I am very happy to have been given this, the band's second CD, for review. The first big plus is a very good, easy to read, front cover. The second, you don't have to fight your way in through the cellophane to get at it! I've never known a CD so easy to open – the cellophane has a 'lid' which even I had no trouble opening. Also – somewhat of a rarity these days – the same great musos as were on the first CD! On with the music…
From the very first note you know exactly who you are listening to – The Magnificent 7 Jazz Band! Straight in; that unmistakable sound, quality arrangements, that same swing, exactly where they left off on 'The Good, The Bad and The Ugly!' Great jazz music – a superb studio recording, and I can hear that they are all having fun, thus adding a warm, 'live' atmosphere to the proceedings. The best of both worlds!
Once again the trio of Milverton, Coleman and Millward provide the swing, tasty backing and drive for the front-line. Coleman with his lovely walking bass, Millward swinging, unrelenting, with Milverton playing as wonderful as ever, also providing us with his own brand of brilliant/sometimes eccentric solo work. Great stuff all round, and the boys work as a team too!
As previously mentioned the quality arrangements are there, very much in evidence, but they swing along in such an easy relaxed manner, as one with the solos, free-wheeling ensemble et al. The whole band is so wonderfully relaxed, highly disciplined, having a lot of fun, and last but not least, brilliant!
As far as the tributes to Acker Bilk and Kenny Ball are concerned, these are played, obviously with due reverence, but nevertheless with the Magnificent Seven's stamp on them…Arguably the greatest UK hit ever, Stranger On The Shore, is played magnificently by Richard, very simple, with just the rhythm section, and definitely with heart…his own phrasing (not slavishly copied). I'm sure that Acker would have been very proud of this testament.
Straight into Caravan…as in the first CD I suddenly found myself sitting in Rick's Bar, Casablanca, such are the mood swings of this band. Featuring Ian Bateman, he just about blows the roof off! Ridiculous technique, tone and swing, and in there, somewhere, you can hear some wonderful harmonies gliding in and out. And when Craig Milverton gets into his solo – mind blowing – driven along relentlessly by Nick and Bill. This is followed by Oye Como Va, a Latin American number, composed by Tito Puente. Just listen to Amy Roberts' flute – world class! And the three-part harmony vocal ain't bad either!
Ben Cummings, who provides such a good trumpet lead throughout (as usual!) displays his great singing talent in Georgia. The whole number has a lovely cosy, bluesy feeling, particularly from the fingerboard of Craig Milverton.
I could go on and on, but space doesn't prevail. Suffice to say that this is an exceptional CD, I think marking another milestone in the history of our wonderful music. Many gems not mentioned I'm afraid – Richard Exall's marvellous tenor sax in The Eel – slippery or what! Richard's soaring alto in Tanga (a hot, spicy, Samba-type affair), followed by a scintillating trumpet break into a fabulous solo; Amy, again on flute in A nightingale Sang In Berkeley Square.
Possibly the oldest 'warhorse' (I personally hate that term), Bourbon Street Parade, is given a facelift, and swings along nicely, streetbeat et al. Then there is another trombone feature, But Beautiful, beautiful being the operative word, complete with 'impossible' note near the end…
Another groundbreaking CD – dare I say the best yet? The reason could be that the band has been together for another year, and it shows. There is an empathy and understanding that many bands would kill for.
Ian Riley of Ian Riley Studios must be congratulated on the superb quality of the recording.
Keep smiling, and Swing That Music – another great tune on your Jazz Odyssey.
Just Jazz Magazine 2015
Magnificent 7 - "The Good, The Bad and The Ugly"
Magnificent 7 Jazz Band
"The Good, The Bad and The Ugly!"
Irthling Records: IRMAG7001
Recorded at Bayford Studios, 4-5 November, 2013
Total playing time: 60m 40s
Magnificent 7 Theme; Dippermouth Blues; Midnight In Moscow; Is You Is Or Is You Ain't My Baby; Avalon; Benny's From Heaven; Brasileirinho; In A Persian Market; Creole Love Call; Minute Waltz; So Do I; Serenade In Blue; Mona Lisa; Chimes Blues; Ice Cream
Amy Roberts (flute, clarinet, alto sax), Richard Exall (clarinet, alto and tenor saxes, vocals, arranger), Ben Cummings (trumpet, vocals), Ian Bateman (trombone), Craig Milverton (piano), Bill Coleman (bass), Nick Millward (drums, vocals)
Magnificent! That's the first word that comes to my mind. Here we have a group of young (well, younger than yer average!) jazz musicians who are willing (and able!) to move the goalposts a bit, and play fresh exciting Traditional jazz with verve and enthusiasm seldom heard since early Barber, Ball and Bilk. The band, co-led by Richard Exall and Amy Roberts, comprises recent and current alumni of these 3Bs.
This is acknowledged by the inclusion in the band's debut album of such numbers as In A Persian Market, Midnight In Moscow, and Ice Cream – all played, of course, in their own inimitable style! Impossible (for me) to pigeonhole this style: an eclectic adventurous mix of street beat and 'normal' beat – slow, medium, fast – vibrant New Orleans jazz with a large pinch of Latin 'spice' thrown in for good measure?
You will all be familiar with the band members: where they come from, and how they like their curries, so I will dispense with the details. Suffice to say, a formidable aggregation of professional jazz musicians!
The more I listen to this CD the more I love it. Starting off with a very slick rendition of Magnificent 7 Theme, one's attention is grabbed immediately. Straight into Dippermouth Blues – no prisoners – great ensemble, swashbuckling solos from Exall, Cummings and Bateman, followed by really nice light and shade; then wham! – out with a bang. Great stuff!
Avalon: having played this number as a banjo feature in the bands of Max Collie and Phil Mason probably upwards of five thousand times, the very name sends shudders through my frail body. However, since hearing it on this CD, I am pleased to announce that, finally, the 'Curse of Avalon' has been removed. For me, the CD would be worth buying for this number alone. A melting pot of Latino/funky spicy rhythms and classy arrangements, great solo work, especially (in my humble opinion) Milverton. When listening to this tune (over… and over…and over…) I could easily imagine myself sitting back comfortably in Rick's Bar, Casablanca, quaffing the occasional large dark rum (or two), puffing on a fine Havana cigar…
Moving on…a really bright Brasileirinho features great Samba-like cross-rhythms, with fantastic bass from Coleman. A few minutes later we have the Minute Waltz (by Chopin), proving the old adage, "It ain't what you play, it's the way that you play it!" A 'classical' feel to start with, then great swinging improvisation, together with stunning clarinet/flute from Richard and Amy (respectively), then back to 'classical', taken out with a super Big Band 'cadenza' type of thing…also, I must compliment Nick Millward on his tight, unflinching, swinging brushwork.
Throughout all, the rhythm section is "top banana" (as that great trombonist, Bob Hunt, would say). Every number has a different feel, tempo – and all that stuff – and it all swings…Great sound and balance, produced by Peter Rudeforth (trumpet player with, among others, the Big Chris Barber Band). Well done, chaps – now back to the stars of the show…(only joking!).
Next up, a fine rendition of So Do I: superb hot trumpet from Cummings. I always remember Kenny Ball ranting at me, "Heat – jazz must have heat!!" There is certainly no shortage of heat in Ben's playing. He also gives a good powerful lead throughout the whole of the recording, which is so nice to hear. Great singer, too!
And then Serenade In Blue, with beautiful harmonies and solos, so wonderfully laid-back it isn't true…
Mona Lisa is played (for me) at the perfect tempo. (Brian White once told me, "That was great – going nowhere in a hurry.") Good vocal from Richard and great tenor sax from Exall! Also a fabulous solo from Ian Bateman. Look out for an exciting new take on the chimes in Chimes Blues, with a superb 'slidy' bass solo from Bill Coleman.
The CD signs off with that old warhorse Ice Cream, but old warhorse it ain't. A fantastic street beat, funky underpinning bass, haunting piano from Craig (not to mention his solo). A fabulous drum solo from Mr. Millward, some rousing ensemble, a nice key change, then back to the street beat, fading into the distant sunset. Then what? Play it again Amy!!
This CD has everything. Musicianship, good vocals, great trumpet lead, good ensemble, classy arrangements, humour, swing, and, most of all, such a refreshing feel about it. Given a little help from the Media (therein lies a problem!), I honestly believe this band could be well-instrumental in kick-starting our slightly ailing Traditional jazz scene. Perhaps more important, I'm certain that the youngsters would also love the band.
As Jackie Flavelle states in his sleeve notes: Quite simply The Magnificent 7 Jazz Band truly are magnificent!
I urge you, get hold of this CD.
To purchase, please go to: www.amyrobertsjazz.co.uk or www.bookajazzband.com/mag7.html
On the latter, go to 'Artists', down to Magnificent 7 Jazz Band and click on NEW ALBUM – THE GOOD, THE BAD AND THE UGLY, or maybe catch Amy Roberts/Richard Exall at one of their gigs.
Jim McIntosh
Amy Roberts/Richard Exall Quintet - "Why Not"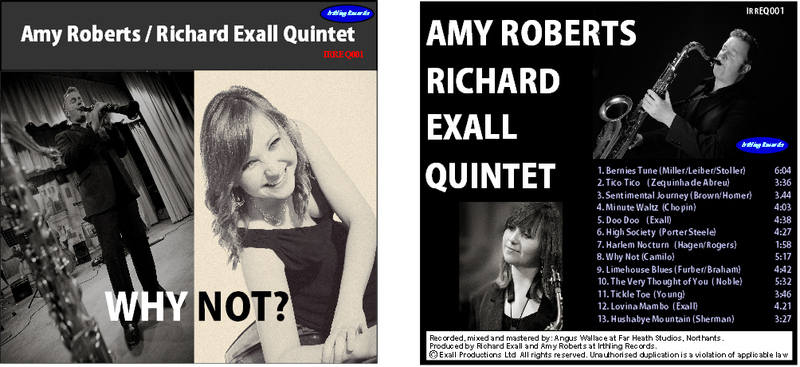 Bernies Tune; Tico Tico; Sentimental Journey; Minute Waltz; Doo Doo; High Society; Harlem Nocturn; Why Not; Limehouse Blues; The Very Thought Of You; Tickle Toe; Lovina Mambo; Hushabye Mountain
Amy Roberts (flute, clarinet, alto sax), Richard Exall (clarinet, tenor and alto saxes, vocals, arranger), Neil Angilley (piano), Bill Coleman (bass), Adam Riley (drums)
This is the first CD by the Amy Roberts/Richard Exall Quintet, and terrific it is too, right from the first note to the last…maybe it could have been called 'Straight in at the deep end – no messing!' Straight in, indeed, with a meaty, really swinging version of Bernies Tune. DNC (definitely not Colyer), but I wouldn't mind betting that he would have approved – he liked most, so long as it was good – Swingle Singers included.
Back to Bernies Tune. This tune really sets the stall for the whole CD, with some fine tenor sax by Richard, great flute from Amy, and wonderfully unrelenting 'walking' bass from Bill Coleman, who, together with Neil Angilley and Adam Riley completing the superb rhythm section on piano and drums respectively, drives and swings it all along, seemingly effortlessly. Sounds more like an octet than a quintet – must be Richard's arranging!
Next up, Tico Tico: a very nimble and tight arrangement, illustrating the obvious skills both Amy and Richard have on their instruments; once again great flute – and lovely clarinet from Richard. Also a thoroughly good, mad piano solo, sounding to me like a fusion of Errol Garner, Fats Waller and Thelonious Monk – brilliant is the first word that comes to mind! The tune (a Samba, I believe) has a lovely Caribbean 1950s feel about it. Humphrey Bogart and all that stuff…I love it.
Sentimental Journey is very bluesy, going nowhere in a hurry. Super 'funky' bass solo from Coleman. Also quite simplistic (again 'walking') bass throughout, but always just at the right time hitting that bottom C, the front line 'bouncing' off it beautifully. Great stuff, ending with a full, powerful chord – nothing fancy – just the perfect choice of notes, which is easier said than done!
Minute Waltz: Classic(al) jazz at its very finest. Absolutely stunning! Followed by a nice spicy Latin Doo Doo, written by Exall, who solos on some wonderful tenor sax. Great drum solo, too: funky rhythms with a Thelonious-type piano riff throughout.
High Society is taken at a very relaxed tempo – all the bits and pieces – great street-beat! Nice to hear the usual suspects playing together rather than in competition with each other…some nice piano thrown in for good measure.
The title track Why Not, described in the excellent sleeve notes by Jeff Barnhart as 'a mouth-watering fusion of Funk and Latin'. Couldn't have put it better myself! Fairly up-tempo, lots of 'jumping' the beat and cross-rhythms (I love all that!), particularly when it is right, which it certainly is here. The whole number is a hot spicy mix of – well, hear it for yourselves! And yet more great, sometimes mind-boggling, piano by Cornishman Neil Angilley…
For me, one of the highlights of this CD is The Very Thought Of You. The whole number is so relaxed, 'smoky' if you like, with Richard oozing some of best tenor sax ever, maybe (I am not an expert on this) slightly in the style of Ben Webster? I could imagine a sultry Amy swooning in the background – very Casablancaesque. Once again, great 'walking bass'. Also, a lovely vocal from Exall: no histrionics – just good (bloody good) singing.
Amy and the boys take it out with a beautiful tune, Hushabye Mountain, from the film 'Chitty Chitty Bang Bang'. A great rendition, wonderfully played by Miss Roberts on the flute with much feeling and sensitivity.
I must apologise (through lack of space) for not mentioning all the tracks – suffice to say they are all terrific, very diverse, very atmospheric, well played, and very importantly, well balanced. Also, the Quintet establishes its own unmistakable sound. Buy this CD!!
Jim McIntosh - Just Jazz Magazine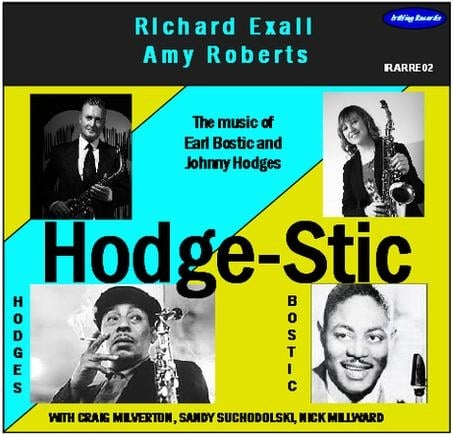 Hodge-Stic
The music of Earl Bostic and Johnny Hodges
Irthling Records: IRARRE02
Recorded, mixed and mastered by Chris Tilke, 2016
Total playing time: approx 67m
Cracked Ice; Jeeps Blues; Special Delivery Stomp; Below The Azores; Deep Purple; Sophisticated Lady; Squatty Roo; Where Or When; Tenderly; Eight Forty Five Stomp; The Jeep Is Jumping; Mood Indigo; Flamingo; Isfahan; Hello Dolly
Amy Roberts (flute, clarinet, alto and baritone saxes), Richard Exall (alto and tenor saxes, clarinet, arranger), Craig Milverton (piano), Sandy Suchodolski (bass), Nick Millward (drums), Steve Vintner (vibraphone)
First of all, I must admit that I am not an expert on Earl Bostic or Johnny Hodges. For that matter, I'm not really an expert on anybody or the type of jazz they play. I just know what I like, what I think is good and not good! So, before we start, let me tell you that I think this CD is good – in fact, bloody good – and very enjoyable. Another gem from Richard, Amy and the boys; a couple of new faces here – Sandy Suchodolski (bass) and Steve Vintner (vibes).
The sleeve notes are very informative. Here are a couple of quotes:
'Earl Bostic, being a pioneer of the early American rhythm and blues style of music, is much overlooked by today's jazz fraternity. He was commonly regarded by jazz musicians at the time (John Coltrane and Charlie Parker included) as a supreme jazz saxophonist who could outplay anybody else in a live gig situation…'
'Johnny Hodges gained fame through the ranks of the Duke Ellington Orchestra, with his smooth solo saxophone style becoming a trademark for both himself and the Orchestra…'
As indicated earlier, this CD review is not so much about comparisons; it's about whether I like it or not – of course, I do recognise the playing of Hodges and Bostic, but not enough to get 'technically' involved…
The first track, an up-tempo Cracked Ice, sets the tone; good jazz, great overall sound, well arranged and, above all, it swings. Richard and Amy, as usual, straight in at the deep end! I nearly fell off my chair at the thought of (and trying to mimic) Amy and Richard's incredible synchronised breathing between phrases – some lasting over four bars, and not a lot of time for breath in between! Great stuff…Into Jeeps Blues: some real good, 'funky' piano from Craig Milverton, and nice 'walking' bass from Sandy Suchodolski, and a solo that shows he is no slouch! Steve Vintner swoops into a lovely solo on vibes in Special Delivery Stomp, demonstrating that (on this CD, at least) piano and vibraphone work very well together, not crowding each other out! Straight into Below The Azores, featuring some great flute from Amy; with once again, as on previous CDs (to me anyway) a delightful tinge of Casablanca. Super alto sax from Richard on Sophisticated Lady, with wonderfully inventive piano from Craig.
A (nice) revelation with Amy booting along great on baritone sax in one of my favourite tracks, Squatty Roo; and Craig's solo piano is great – mad (correct!) chords-a-plenty!! Some very important information here – my son Jamie has a really nice cat named Roo. Some great solo work from Nick Millward, who is certainly not squatting; neither is Richard on his alto sax finishing note in Where Or When!
Eight Forty Five Stomp romps along nicely, with some interesting riff work to boot (especially during the piano solo), followed by Richard's ever-great tenor sax on The Jeep Is Jumping. Never in the field of jazz has Mood Indigo been played so many times by so many bands; but here is a version to just sit back and enjoy. Richard and Amy oozing sweet and mellow clarinet throughout. Lovely feeling, lovely tones…The CD finishes with a splendid version of Hello Dolly – another of my favourite tracks. It has such a totally relaxed feel…going nowhere in a hurry…just as it should be.
A really enjoyable CD. Everything swings; great arrangements, wonderful technique throughout by all, some nice 'quirky' bits, but most agreeable for me, a feeling of warmth, charm and humour coming through…
Highly recommended!
Just Jazz Magazine