Flautist, Clarinettist and Saxophonist Amy Roberts is a multi-award-winning musician now based in Northamptonshire, UK.
Over the past 10 years she has been celebrated in the in the annual British Jazz Awards, winning the Rising Star Category in both 2009 and 2011, then topping the Miscellaneous category for her flute playing in 2015.
Amy has earned an enviable reputation throughout the UK and Europe as a charismatic performer, and has had the privilege to tour with some of the worlds finest musicians.
After growing up in South-West Cornwall, Amy moved to Manchester to study classical saxophone with Rob Buckland at the prestigious Royal Northern College of Music. In July 2011 she graduated with a First Class Honours Degree. During her college life Amy was featured with the RNCM Big Band performing the Artie Shaw Clarinet Concerto, was awarded the Martyn Edwards Bursary (a scholarship for outstanding jazz performance) and was selected as the only woodwind student to perform in the finals of the RNCM Gold Medal Competition - the highest level competition at the college.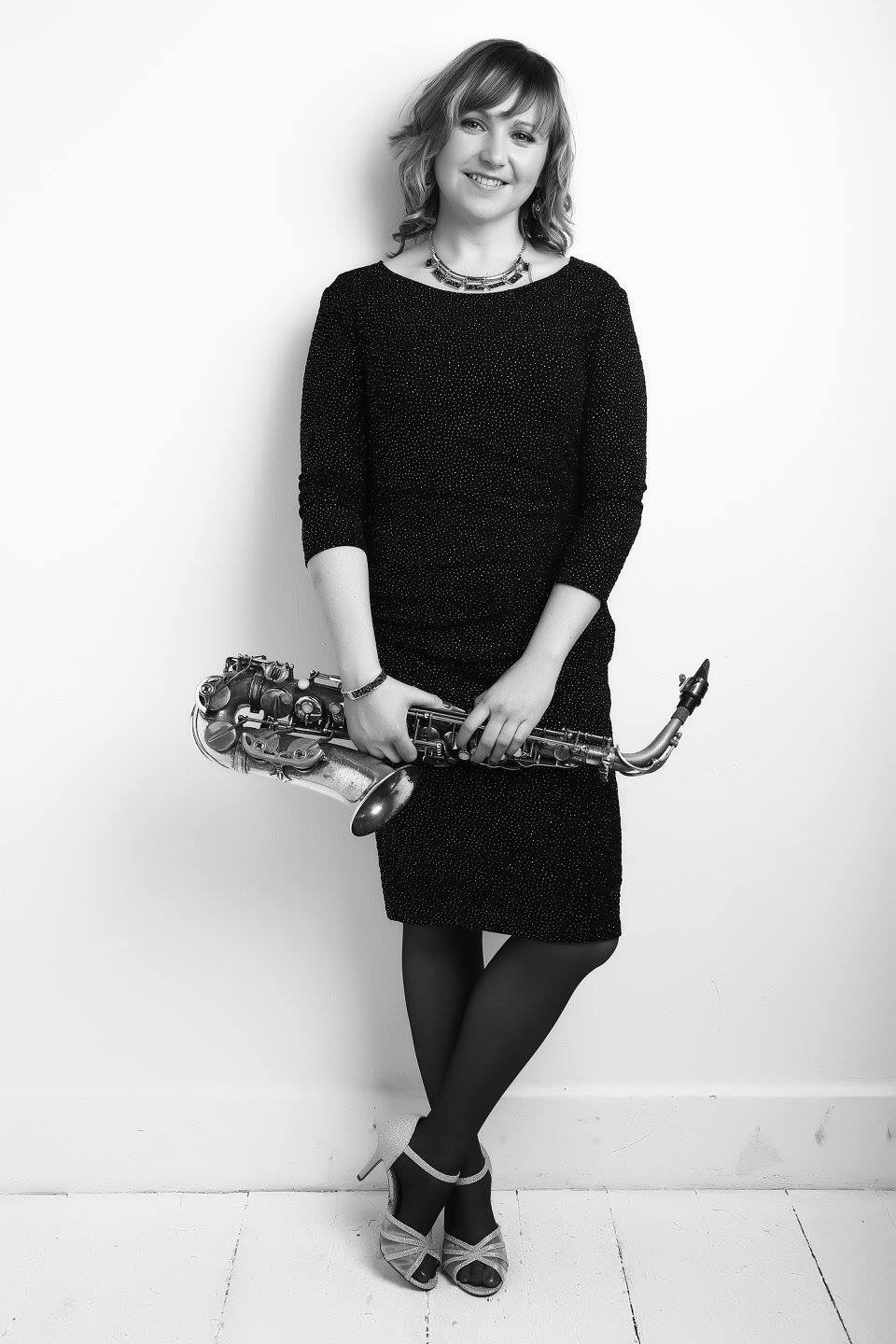 During Amy's final year at the RNCM she was head hunted by internationally acclaimed trombonist Chris Barber to join his band and in doing so became the first female musician in the history of the band. With the Big Chris Barber Band she toured throughout Europe for almost 4 years before moving on at the end of 2014 to focus on her own projects. Some highlights include a 3 day stint at Dunluce Castle in Northern Ireland as the support act for Van Morrison and his band, playing on live TV in Germany and getting to perform in some of the most stunning concert halls in Europe.
As a freelance musician Amy's performances have included concerts and tours with the Pasadena Roof Orchestra, Syd Lawrence Orchestra, Matthew Herbert's Brexit Big Band, London Swing Orchestra, Pete Long's Echoes of Ellington, Keith Nichols Blue Devils Orchestra, Sticky Wicket Orchestra, The New Squadronaires, Memphis Belle Orchestra and Harry Strutters Hot Rhythm Orchestra. In the theatre Amy has played for Magic of Motown, Guys and Dolls, Berlin Berlin and several Frank Sinatra Tributes.
In 2016 Amy was invited to play flute as part of Grammy Award Winner Terence Blanchard's band "The Inner City Ensemble" as part of their UK tour. In the same year she was part of a special band put together to support the incredible talent Alex Vargas, an R&B Soul singer from Los Angeles, USA during his trip to the UK.
Amy has played at top UK venues including Ronnie Scott's Jazz Club, Pizza Express Jazz Club, the 100 Club, Royal Festival Hall, Cadagon Hall, Fairfield Halls, Bridgewater Hall and St David's Hall. Festival appearances include Gothenburg Jazz Festival, Hallevik Jazz Festival, Aarhus Jazz Festival, Ebeltoft Jazz Festival, Dresden Dixieland Festival, Silkeborg Jazz Festival, London Jazz Festival, Cambridge International Jazz Festival, Manchester Jazz Festival, Swanage Jazz Festival, Keswick Jazz and Blues Festival, Pershore Jazz Festival, Twinwoods Festival, Bude Jazz Festival, Upton Upon Severn Jazz Festival, Bristol Jazz Festival, Ayr Jazz Festival, Abresoch Jazz Festival, Newport Jazz Festival (Isle of White), Teignmouth Festival, as well as at classical music festivals such as Lake District Summer Music Festival, The Three Choirs Festival and Oundle Music Festival.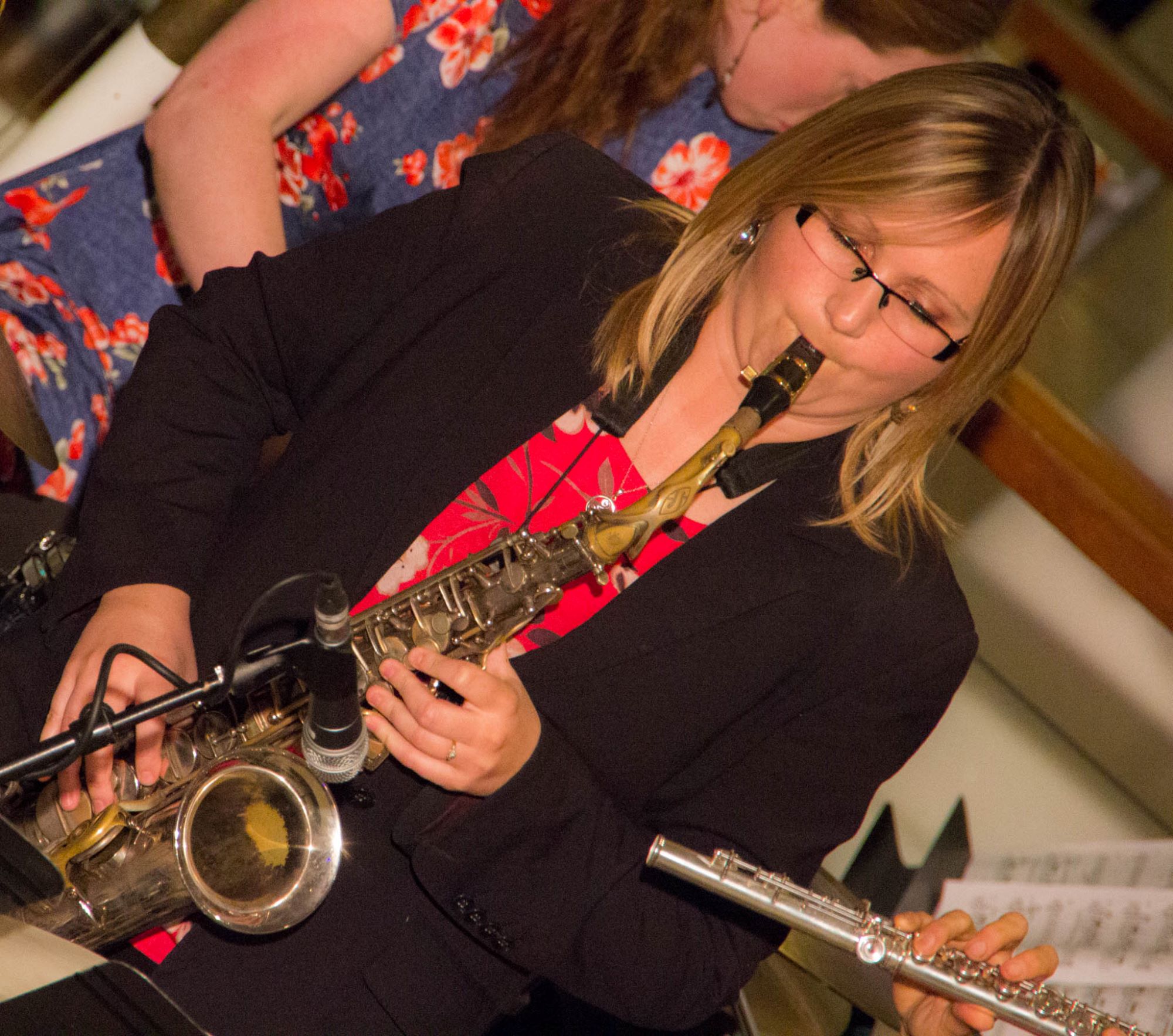 With the Matthew Herbert Brexit Big Band Amy has performed at the North Sea Jazz Festival in Rotterdam, in Antwerp, Flakey, and at the world famous Montreux Jazz Festival in Switzerland . She was also selected by American banjoist Cynthia Sayer to be part of her International All-Star Band "The Women of the World" during their Scandinavian tour in 2017.
In September 2017, the Amy Roberts/John Hallam Band were voted "Band of the Year" by Rochdale Jazz Society, a title previously won with the Amy Roberts/Richard Exall Quintet in 2014.
Amy has performed with Issie Barrett's all female Contemporary Jazz Dectet "Interchange" for performances at the London Jazz Festival and the Cambridge International Jazz Festival.
During 2018 Amy was part of the Rosenau Sinfonia during a tour to Southern Spain. They performed the "Hollywood to Broadway" show for a prestigious charity event in Sotogrande.
In education, Amy was involved in the Best Of Young Jazz Project from 2009 to 2015 as a mentor for young people in the Worcestershire area. During the scheme Amy worked alongside phenomenal bass player and educator Steve Berry, to inspire and teach the students taking part in the BoYJ Academy.
Amy was honoured to be featured and used as a 'cover girl' for a Clarinet and Saxophone Society Magazine after being interviewed by upcoming writer and musician William Upton. She has been a featured artist in JazzWise, PhoneBox, Lady, Just Jazz Magazines and various newspapers, as well as taking part in interviews on several regional BBC radio stations, PlayjazzUK, Harrow Radio and RadioNeneValley.
Amy is delighted to share her musical world both as a performing multi-instrumentalist and as a touring musician in a predominantly 'man's' world. She is happy to work with community, school and U3A groups and tailor talks and musical experiences to specific and special occasions.
2019 was a musically fabulous year and Amy had to opportunity to cruise with SAGA to Cape Town as part of the Syd Lawrence Orchestra, then sail on another SAGA trip to Norway with the Pasadena Roof Orchestra. She performed at the Bristol International Jazz Festival as part of the orchestra performing Billie Holiday's "Lady in Satin" album with very special guest vocalist China Moses. Other highlights were gigs at Manchester Jazz Festival, Hull Music Festival and in Hamburg, Germany, with the Super Big Tramp Band featuring Super Tramp legend John Helliwell. Two days in July 2021 were spent in Manchester recording their debut album.... to be released soon! The Super Big Tramp Band also headlined at Buxton International Festival 2023.
In July 2019 Amy was absolutely blown away to be welcomed back to the Royal Northern College of Music to perform as a guest with the RNCM Big Band during Mike Hall's final concert as Head of Jazz Studies.
In 2022 and 2023 she had performed with such names as Clare Teal, Earl Jackson and John Helliwell, and worked in some fantastic venues including Cadagon Hall.
Away from music, Amy has 2 little boys, and is a level 3 qualified Personal Trainer, Nutritional Advisor, Kettlebell instructor and Boxercise instructor. She can be found coaching for Fitter Body Ladies in Kettering, as well as working in person AND remotely with clients for personal training.